Hardy Orchid Society In April 2015
Battlemesh photographic report 04/06/2010 of June and robotica test
Battlemesh photographic report 02/06/2010 of June
Great meeting of networking hackers in the campingsite at beginning of June...
New rules about parking in Bracciano city ( Nuova mappa x parcheggiare a Bracciano)
The new group of toilette it's finally ready!
Winter 2008-2009: Working to rebuilt the main group of toilettes: photos are coming soon...
Debian conference the 13 and 14 september on the camping's terrace; more info at http://www.gnuvox.info/2008/09/a-breve-la-4a-edizione-dellitalian-debian-community-conference/
Warm water freely available with no coins, running the all day,as wi-fi! News 03 April 2008
Others paintings on terrace: News 31 March 2008
New paintings on terrace: News 10 June 2007
Marriage Gf & Lies! News 03 May 2007
The terrace is almost ready for the marriage Gf & Lies from Gouda... News 20 April 2007
The first motorbiker of this season has a maising Harley... News 19 April 2007
Easter photos from a well known photograph: G.Morrione made... News 18 April 2007
Easter Holiday at the camping-site busy with the guests and the new face of camping-ground after the big restore... News 17 April 2007
Too many works during March at the camping-site ...
News 10 May 2006: A lovely news today 21 May 2006:
Wlan Wi-Fi still gratis at Camping Porticciolo! According to the law our net needs now authentication to get in; You can get the password at reception, but it's still free of charge ! Enjoy our adsl coming with your laptop.
News 4 October 2005:
Camping is closed till the first of April: here a small movie (900 kb) of the linux party of the last september
News 22 August 2005:
Linux party at the camping-site the days 9-10-11 September
Photos of the last year available at http://lugcamp.lugroma.org/gallery/foto_2004/
The big and the small bus together
News 26 April 2005: From the 16th till the 22th of May all museums and archaeological sites in Rome will be free of charge
News 02 April 2005 : a real safe-box from today...
News 27 March 2005: Good Easter from our church-tent
News 25 March 2005 :
It's spring and the camping is open...(photos).
The minibus shuttle ready to work !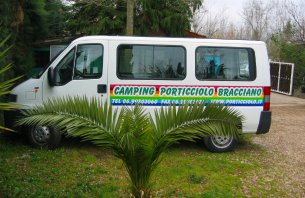 News 09 March 2005 : two scooters to hire directly at the campingsite ; details and tariffs are coming soon !
News 27 February 2005 : Camping in the snow after about 10 years !
Do you generally like to use your laptop during your holidays?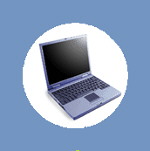 Getting a wireless card with you it's possible to surf on Internet all the time you will be inside Camping Porticciolo, with any coast for you ; if you don't own a wireless card than you can rent one for a cheap price directly at the camping reception.
Aren't you so expert about setting the network? We will set your laptop for you
to get a free Internet connection
Other services available; cd burning with the photos of your digital camera ( except Sony), and if you don't like to bring a laptop with you, we have two Pc with Internet access for guests ( Eur 3,50 / hour) .
News 12 February 2005 :
Today, the big white shuttle 45 seats ...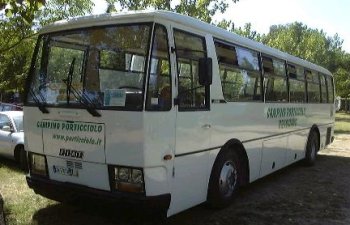 Got a baby ! He has a name already, Fiat Ducato 9 seats .
Ducato is a newborn, white as his mama, and will be helpful when few guests like to get the train to Roma and when the guests visiting the eternal town will be more than 45 ! Perfect also to satisfy a small group of people searching for an easy shopping in Bracciano, or visiting the Etruscan Cerveteri without their own car or coming back from Rome after theatre, when metro and train are off already.
Best wishes to the new arrival ; photos of Ducato will be available in this page as soon as the green writings ( as his mama has ) will be ready.